Greetings to New & Returning Guests
The 2020 Bobcat Fire devastated much of the San Gabriel Mountains above Los Angeles, including the Big Santa Anita Canyon, where Sturtevant Camp has welcomed hikers for 130 years.
While the Camp survived mostly intact, the Canyon—and therefore the Camp— remain closed by the U.S. Forest Service. This is because the trails are not yet safe for public use.
During this closure, Camp and Canyon volunteers are working to restore the trails and repair the Camp: click here to see stories of the work in progress, and here to see how you can help.
We look forward to welcoming you to Camp as soon as possible; until then, check out everything about Camp here on-line, until you can get off-line and up the trail! See you soon.
The Board of the Sturtevant Conservancy
---
Established 1893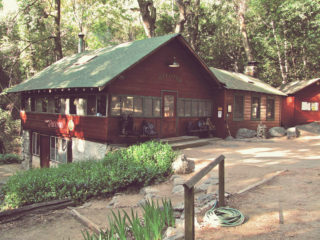 Sturtevant Camp is located in the upper reaches of Big Santa Anita Canyon, in the San Gabriel Mountains of Southern California. We are a hike-in camp dating back to the "Great Hiking Era". The trail in is a little over four mile hike from the parking lot at Chantry Flat, north of the City of Sierra Madre, California. Just like it was in the "Great Hiking Era", the only way to get to camp is to hike. No motorized vehicles. Although a person could ride a horse or mule, there are none locally to rent.
The camp is open to the public and rental cabins are available from 2 to 40 people.
For your trip to this rustic location, the friendly donkeys of Adams' Pack Station will take your personal items and food for a mere $1 per pound. Indicate that you want packing when filling out the reservation form. Read the Packing Services page for more info. Keep in mind that the only way that supplies, equipment, food, and personal items to arrive in camp is to carry the on a person or a donkey.
Read more: Overnight Rates • Camper Info
Camp Amenities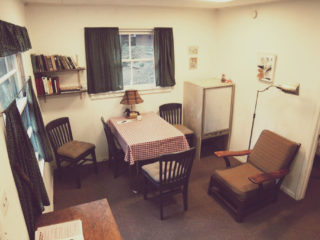 Lodging consists of four roomy guest cabins, each sleeping eight, the cozy Honeymoon Cottage, and the homelike, self-contained Retreat Cabin. All cabins include mattresses, bedding, blankets, and pillows. In cool weather, cabins are warmed by propane wall heaters. The bath house, separated for men and women, has flush toilets and hot showers.
Common facilities include a spacious dining hall, an industrial kitchen and a game room with fireplace and piano. We also have an outdoor chapel/gallery for presentations, entertainment and spiritual services.
Keep in mind that the Camp is a step back in time. Although there are electric lights in the evening, the Camp is otherwise unwired with electricity by a generator. No electric outlets, no wi-fi, no cell phone access. Please be prepared to be off the grid for your stay. You will find that it is quite relaxing.
Read more: The Cabins • Sturtevant Lodge • Fireplace Room • Camp Kitchen
Activities at Camp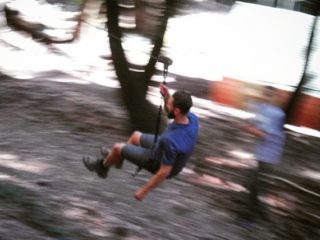 Activities at Sturtevant Camp includes volleyball, badminton, ping-pong, shuffleboard, horseshoes, croquet, big swing, games, self-guided nature walk and, of course, splashing in the creek. The natural surroundings provide many sightseeing opportunities: the big spruce trees, ferns, chaparral and wildflowers. There are dozens of bird species to spot and vistas to enjoy by hiking to Mt. Wilson or Newcomb Saddle.
Read more: Camp Activities • Chapel/Gallery • Canyon Trails
Wilderness Setting
Sturtevant Camp is not just located in the Angeles National Forest, but it is located in true wilderness, just miles from the city. As such, the forest is a host to a multitude of wildlife. Come and enjoy smaller creatures such as gray squirrel, fox, racoon, and skunk. Only the squirrels are seen during the day as the others are very nocturnal. We have several varieties of snake such as rattle, gopher, racer, and California king snakes. Only the rattlesnake is poisonous and mostly seen off trail, so please stay on the trail. There are both mountain lions and bobcat that are occasionally seen during the day, mostly during the night. The most interesting are the black bears that are actually more brown in color. People are most concerned about these larger animals and really should not be if some caution is used. They are just as afraid of us as we are of them. If you encounter a bear, retreat if possible. Otherwise, stand your ground, make yourself big by raising your hands. Making noise will also move him/her on.
Volunteers at the Camp
The entire camp is run by volunteers, from the Board of Directors, to camp hosts, and maintenance people. The camp is run under Sturtevant Conservancy. Volunteer hosts are at the camp to direct hikers, provide orientation, and generally keep the place running during the weekend. They appreciate tips.
Parking
Parking is at a premium at Chantry Flat. If you arrive on a Friday, you should not have much difficulty finding parking in the U.S.F.S. parking areas. You will need to display an Adventure Pass on your car for each day you are gone. Passes are sold at Adams' Pack Station, located near the Chantry Flat parking lot, from Friday through Sunday for $5 (or you can purchase an annual pass for $30). Saturday arrival is a different story. Parking is extremely difficult to find unless you arrive by 6:00 or 6:30 am. Same rules apply as a Friday arrival. Alternatively, you may reserve a parking spot in the private lot managed by Adams' Pack Station for $30 per night.