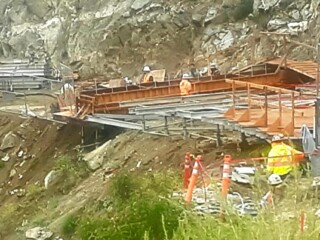 There are two "big" projects underway that, when completed, will give the public safe and reliable access into the Big Santa Anita Canyon. The objectively larger one is the L.A. County project to build a vehicle bridge on the Chantry Road, using heavy—really, really heavy! – equipment. It is currently on track for completion in early October.
The smaller but no less crucial one is helping the Adams Pack Station to reclaim the 'horse' or pack trail from Chantry Flats up to Camp; the tools and equipment are shovels, pick-axes, McLeods, and strong backs! The packtrain burros will be the first regular users, with hikers coming later when the Canyon opens to the public (hopefully next spring).
The trail is rough but navigable by foot now, but there is one rocky pinch point the burros cannot pass with their bags loaded; plus a few other points are tricky and need work. As soon as these can be fixed, Maggie Moran can start packing, which serves the Pack Station and the Camp—both of which remain endangered by the closure of the Canyon nearly two years after the Bobcat Fire. To join this project, visit sturtevantcamp.com/volunteer. We'll provide the shovel!
Spring = New Births
Flowers aren't the only things blooming in the Canyon: bear cubs have been sighted near Chantry, and on the trail to Camp, Manager Paul Witman came upon three still wet, just-born fawns (see photo). Then in Camp, a Dusky Flycatcher has made a nest in its usual place on the kitchen windowsill of the Manager's Cabin – but this time had the advantage of a cup previously filled with ammonia to stave off the bears. A week after the first photos of her sitting on 3 eggs, the work team returned to find them hatched and hungry; the photo here shows them napping while mom is out hunting for breakfast.
How to Sell "Camp"
With Camp closed for repairs and preparing for re-opening 'later', the Board is catching its breath and thinking about how to advertise for that re-opening. Sturtevant is so wholly unique, it's hard to accurately "sell": hikers come into true wilderness, but stay in cabins, with kitchens and restrooms. Sturtevant is just 25 miles from downtown LA. so it's 'accessible'—but that 4.15 mile hike makes it genuinely remote. In Camp guests are "wi-fi free", yet most awareness of Camp is built on-line, especially now while the Canyon is closed. It feels luxurious to have bed and pillows in the wilderness, but for sure it's not glamping, it's rustic—historically, intentionally, inevitably rustic!
We're confident that the Canyon's magic will continue to pull in all kinds of people, just as it has since Wilbur set up the first tents in 1893. With that in mind, one option to both sell that Canyon magic and recover the guest capacity of Cabin-1 could be to put up an old-school canvass sidewall tent. These have become popular and are readily available—just as they were way back when: the accompanying photo is from the 1897 Sears & Roebuck catalogue, showing many kinds of tents for recreation and work.
Note that 1897 is the same year that Wilbur built the "Swiss Dining Lodge" to accommodate his booming tent-based resort business. We still enjoy it today, and are working so that many more can continue to come to Camp in the years ahead. To be part of helping that history thrive in the future visit sturtevantcamp.com/support.
Calling All Hosts, Old & New
Speaking of which (the Future): Sturtevant's microscopic non-profit public service Conservancy depends entirely on volunteer hosts to welcome and manage guests on weekends. Looking ahead to re-opening (sometime after Christmas?) we are ramping up to recruit old and new hosts for that exciting day.
This includes an updated job description, orientation and training for hosts, and a smoother booking system for hosts, with accompanying "bennies" on the far end. If you have been a host before or want to be considered, visit sturtevantcamp.com/volunteer and/or send an email stating your interest—we're interested in you!
And the Water-Works Goes On
These snapshots from progress on the water system include Site & Operations Manager Paul Witman piecing together the filter system for the replacement tanks at the entry to Cabin-2, which has become the storage and assembly site for all the valves, tools, etc. Action figure-photo-volunteer Scott Wilson pumps the come-along to drag one of the old concrete tank support ledgers out of its place, making room for the replacement tank/s. And Scott at rest, surveying the reworked pad for the new water tanks: the new ones are shorter but wider than the ones lost to the fire, so the pad had to be slightly expanded.
Binocular Report
Going into summer, the Conservancy's "backpack" is full of work: getting the pack train through to Camp a.s.a.p., installing and testing the water tank (as the water level drops for the season and the continuing drought), finalizing host recruitment and training, housekeeping and repairs in Camp, upgrading our accounting and reservations systems, and developing both marketing and publicity before the Forest opens, etc.! In other words, we're keeping our boots laced up and ask you to do the same with a visit to sturtevantcamp.com/support
Bonus Shot / Up Next
Here is a fuzzy spy photo of – what? One of our volunteers with – what? See next month's newsletter for the big reveal!