Greetings from the Board of the Sturtevant Conservancy, and a belated Happy New Year.
There's a wise saying that 'If you would make God laugh, make a plan.' Oh, we've made such plans, and God—or at least Mother Nature must be chuckling mightily. Part of the plan was to deliver an Annual Report for 2022 here in January; instead, we've been soaking our boots, scrambling over rocks, shoveling mud, and otherwise coping with 2023's "atmospheric streams" that delivered 18.75 inches of unexpected but much needed rain to the Camp and Canyon.
It's all good, just not what WE planned! With a little grace, we do 'plan' to deliver that fancy number-crunched annual report a bit later. If you've been following the updates on the Camp website and Wilbur's Facebook page, you have a pretty good idea of the Camp's on-going status: still closed with the Canyon's closure, and still busy with volunteers struggling to get the water system in place—and that after doing a rocky boot-dance up and down the trail. For sure our volunteers are committed and won't say quit.
Annual Meeting
We did fulfill one part of our planning by gathering for an official annual meeting of the Board in mid-January. This was a rare 'down the hill' and face to face meeting, that is, no hiking or other work involving carrying large objects or tools or digging. It was a special delight to reconnect with member Teah Vaughn-Piscopo after a long gap imposed by her becoming a mom this past summer, and extra-special that she brought new baby Ripley with her for introductions and toe-squeezing all around the group.
Among a wide-ranging agenda, early up was the election of two new members to the Board: it is with real pleasure that we welcome Kelly Davidson and Brent Pepper as directors/members at large to the Board (read their profiles below and later on the website.) Their addition expands the Conservancy slightly and definitely strengthens it.

Looking Forward
In time, the goal is to add 1-2 more members, along with a semi-formal circle of allies and advisors to address specific needs. In that mode, we were fortunate to have Adams' Pack Station owner/operator Maggie Moran participate in the whole meeting: the Camp/Pack Station relationship is obviously symbiotic and crucial, and we look forward to working more closely, especially to integrate on-line guest reservations and packing needs.
Although we are entering a third year of shut-down with no business revenue and an uncertain re-opening date, what inspires confidence is how strong the Board is as a team, and the many volunteers who keep up their support by hiking, working, and sustaining their donations to the Camp's future. And, frankly, although the big rains have added to our work and uncertainty, to see and especially hear the Big Santa Anita running loud and clear again is wonderful. No wonder we all keep coming back, and we'll stay on track to welcome everyone back to Sturtevant as soon as possible – Mother Nature willing!
For the Board of Directors
Gary M. Keene, President / General Manager
Sarah Barron, Secretary of Record-Treasurer / Manager, Administration and Finance
Paul Witman, Manager, Site and Operations
Teah Vaughn-Piscopo, Manager, Guests and Hospitality
Kelly Davidson, Member at Large
Brent Pepper, Member at Large
Kelly Davidson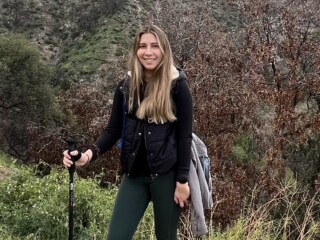 Since childhood, Kelly grew up spending every weekend or available time hiking around Big Santa Anita Canyon. Her passion for being in the canyon led to a volunteer position at Adams' Pack Station, where she helped with store operations for nine years. Kelly currently works in the demanding field of property management, and brings those skills to the work of the Board and Camp operations. When she's not in the Canyon, she spends her spare time as an avid VW/Audi enthusiast at automotive events such as Cars & Coffee and at the race track; she also enjoys gardening, reading a good book and relaxing on the beach. But hiking is her favorite activity because it leaves her with a clear mind and full cup of appreciation after spending time in nature. She is excited to continue volunteering and help give back the Camp as a special historical place that feels like a home for so many.
Brent Pepper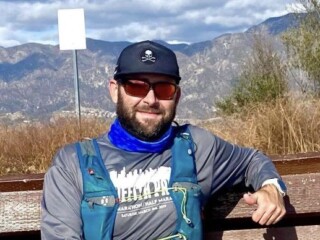 As a Mountain Ultra Trail runner, it's only fitting that Brent's first introduction to camp was during a training run. He soon joined the Camp's volunteer ranks during the water-tank-hauling campaign of Fall 2021 and keeps coming back for more. Well-skilled in the use of a McCleod, Brent also brings a load of talent in digital media development and management to the Camp's business needs. He sees the time serving on the Board and in Camp as his way of paying forward the opportunity for others to come into the canyon, make that four-plus mile trek to Camp, and enjoy the beauty and the solitude of the mountains. If he's not in the Canyon, you can find him volunteering at endurance running events across Southern California, at work for his family's furniture business, enjoying trails throughout the Angeles National Forest, or at home with his wife, son, and daughter in Ventura County.