Thanks by the Names & Numbers
The Sturtevant Conservancy is an all-volunteer operation, and we now have the numbers to show just how grateful we can be—and are indeed! Although we're not hard-core bean-counters, there is some real data to analyze, estimate and extrapolate*. Here's the picture based on what we have so far this year:
55 volunteers have signed waivers to work in the Canyon/at Camp; 32 have showed up for one or more workdays. Using static data (distance to Camp, elevation gain, etc.) and average data (time hiking in/out and hours in Camp), as of Nov.17th, we get 495 total volunteer hours of hiking and working combined. That's 62 days at 8 hours a day – even though most days were 6:30am at the gate, back out at 4:30pm = ten hours.
In terms of hiking, we also calculate 495 total miles, not including all the schlepping back and forth in Camp while working which can add up to way more than a mile. The total elevation gain is nearly 582,000 feet, equal to climbing the height of Mt. Wilson 102 times, or Mt. Everest 20 times.
But that's the numbers; here are the names of all those who put boots to dirt to move Sturtevant into the future:
Volunteered at least one full workday in 2022: Susan Stahl, Taylor Crisp, Aaron Blanco, Peter Vance, Charie Contreras, Sandra Sanchez, Todd Williamson, Fred Tanis, Sharon Miller, Ted Baumgartner, Avery Arauz, James Krist, Alex Barron, Elizabeth Sturdevant, John Butta, John Binninger, Reg Willson, Ty Oehrtman, and Jim Oberman = Thank You!
Volunteered more than once: Dave Baumgartener, Andrew Bousfield, Anna Binney, Maureen Nally, Kelly Davidson, John Peel, Emily Sawicki, Peter Witman, Patrick Gorman, and Patrick Kelly. (Special call out that several of these folks were even more active in 2021, back when we weren't trying to track the particulars.) Double-Thank-You!!
Scott Wilson, Brent Pepper, and Nate Bousfield volunteered five times or more for a collective total of at least 135 miles hiked and 158,625 ft of upward trail. No counting of all the parts carried, shovels-flung and dirt inhaled; a mountain-sized THANKS to each of you!!!
There simply would be no real progress on recovery from the Bobcat Fire, much less conserving the Camp's long-term condition for future use without all these boots, miles, hands and hearts: thank you all so very much! We'll have year-end totals after the holidays, a snapshot of the Board member data, and next year we should 'count calories consumed'—that should be an outstanding number. If you want to get in on the action, sign up to volunteer sturtevantcamp.com/volunteer.
*Board members are not included so as to not skew the data.
Raindrops Keep Fallin' — and Moving Stuff
The early November storm that smacked southern California did a real number on the San Gabriels. Despite the dramatic changes of the 2020 Bobcat Fire and the subsequent storms at the start of 2021, this one seemed to do even worse. Winter Creek* was especially hard hit, with the familiar green bridge at Roberts Camp ripped from its foundations, along with all the forest cover at the junction with the Big Santa Anita stream. The view is simply devastating.
Up-canyon, the water did some more re-landscaping, and more trees were down, thankfully none in Camp. The heliport rain gauge measured 6.9 inches from the storm, and that plus the volume of surface gravel yet again wiped out the Camp's rebuilt collection pond, along with much of the hardware. Volunteers have already shoveled a LOT of soupy gravel to locate what was left, and rebuilding is underway. As posted on Wilbur's Facebook page, certainly Mother Nature bats last, but thanks to our volunteers, we're still in the game!
*Winter Creek is so named because that's when and where Wilbur paused building a new trail (the one we know as the Zion Trail) from Sierra Madre up to the Camp. It was his second trail into the Big Santa Anita, after guests complained about the difficulty of his first one. Speaking of which…
Happy 130th Birthday Sturtevant Trail!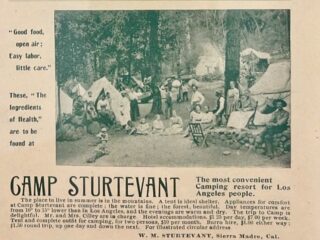 Wilbur Sturtevant opened his trail resort in 1893, the first in the Big Santa Anita Canyon, and now the last in the San Gabriels. The country was in the midst of a severe economic depression, and his chief financial asset was the string of 23 pack animals he had built up and brought west from Colorado. While there was money in packing for local projects such as the Mt. Wilson toll road and construction of the Observatory, he was a bit of a loner and likely preferred to work for himself.
Wilbur observed the success of Martin's and then Strain's camps on Mt. Wilson and figured he could do even better; a camp would create guest revenue and a steady demand for packing (just like the money in selling printers is really in replacement toner cartridges!) Scouting the front range, "he first laid eyes on the gently sloping wide spot by the upper Big Santa Anita creek…"* With its steady water supply, majestic trees and a good dose of sunlight, it proved to be an ideal setting for a trail camp. But how to get there?
Anyone who has hiked the San Gabriels, and especially those who have done trail work, know how difficult the conditions are. Yet Sturtevant set to carving a steep trail down from the summit of Mt. Wilson to his new camp. It would prove to be 2.8 miles over 2800 feet of elevation – drop and the gain on the return, the same rate as the infamous Chilkoot Pass on Alaska's Klondike Trail. Everyone who has hiked Wilbur's trail knows it is a 'butt-kicker', ideal for training AND great views across to Mt. Baldy.
The Sturtevant story is the trail resort opened in 1893, likely summertime; that would put starting the construction of the trail into at least 1892. So, as we wrap up 2022, here's Happy Birthday to the Sturtevant Trail, now 130 years old!
*G. Owens, "The Heritage of the Big Santa Anita", pg. 4
Coming in December
The road re-opens (probably?), the Becky Page story, looking into the new year, Board changes and more. Until then, have a gravylicious Thanksgiving!