We have begun the process of taking our new water tank parts from Adams' Pack Station at Chantry Flat to the upper reaches of Big Santa Anita Canyon. When coming to Sturtevant Camp for a stay or a visit the trip is a pleasant, four-mile hike. But when carrying large, curved pieces of corrugated steel it becomes a long haul.
The First Trip
On Saturday, November 6th, 2021, eight volunteers carried one of 6 pieces of a water tank cylinder. Each piece is a 4′ x 9′ of deeply curved, corrugated & galvanized steel.
Initially we had tested a wooden rig for carrying the pieces; something akin to a stretcher used for carrying wounded people. But this rig proved to be more trouble than help so we abandoned it in favor of good old-fashioned elbow grease… and pool noodles.
Not So Fast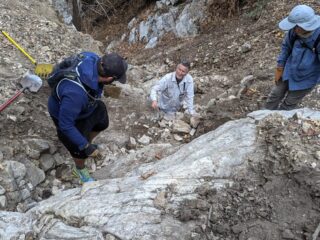 Before we could attempt to carry such large and awkward items through the third steepest mountain range in North America, we had to do some trail repair.
If you don't know, the reason for installing these new tanks is that in September 2020 the Bobcat Fire, one of two widespread fires in the recorded history of Big Santa Anita Canyon, destroyed our water system, along with one of our cabins.
The intensity of this fire denuded the canyon slopes of vegetation. And without the chaparral to hold the soil in place there was much dirt, rocks, and fire debris washed down across the trails by recent rains.
So instead of hauling the first tank piece on the first scheduled volunteer day, several volunteers, including new friends, went to work on clearing washouts with McLeods and shovels over the course of the two-day weekend, making the trail safe for our hauling efforts. In some places, loose rocks from above the trail were removed and placed in gullies as crib walls to restore the trail surface.
Let the Fun Begin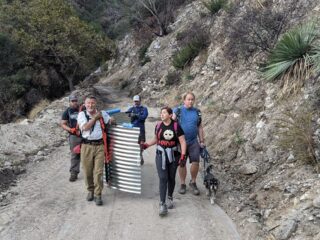 The trails now in relatively safe and passable condition, we used the next scheduled volunteer day to begin hauling our tank pieces. And because we knew that we would encounter new debris on the trail we again brought in the trail-building tools.
Our new hauling system was simple and effective: two heavy-duty carrying straps rented from a moving company and cheap foam pool noodles to cap the sharp edges of the steel. This is much lighter and more maneuverable than the wooden rig, although the size and shape of the steel is nevertheless awkward to carry.
See the gallery below for photos from the first delivery day and days prior.
---
More Help is Needed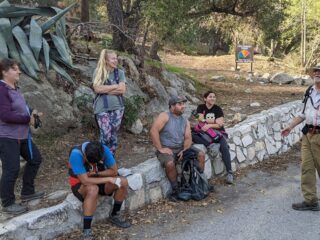 This trip was just the beginning of delivering all the water tank pieces to Sturtevant Camp. And once everything is delivered we need to assemble it all and get the plumbing connected to the existing, undamaged infrastructure. If you can help in any of these capacities please use the following form to send us your information.
So far the scheduled dates are as follows…
Volunteer to Help with Our Water Tanks
---
Photo Gallery