Here's the latest news about Sturtevant Camp from the Sturtevant Conservancy, five hikers infatuated with sharing the beauty and history of the camp with everyone. Stay on the trail and in the know as we continue to recover from the 2020 Bobcat Fire, looming drought, and hungry bears, and prep to receive guests when Big Santa Anita Canyon reopens to the public.
New Tanks Have Been Delivered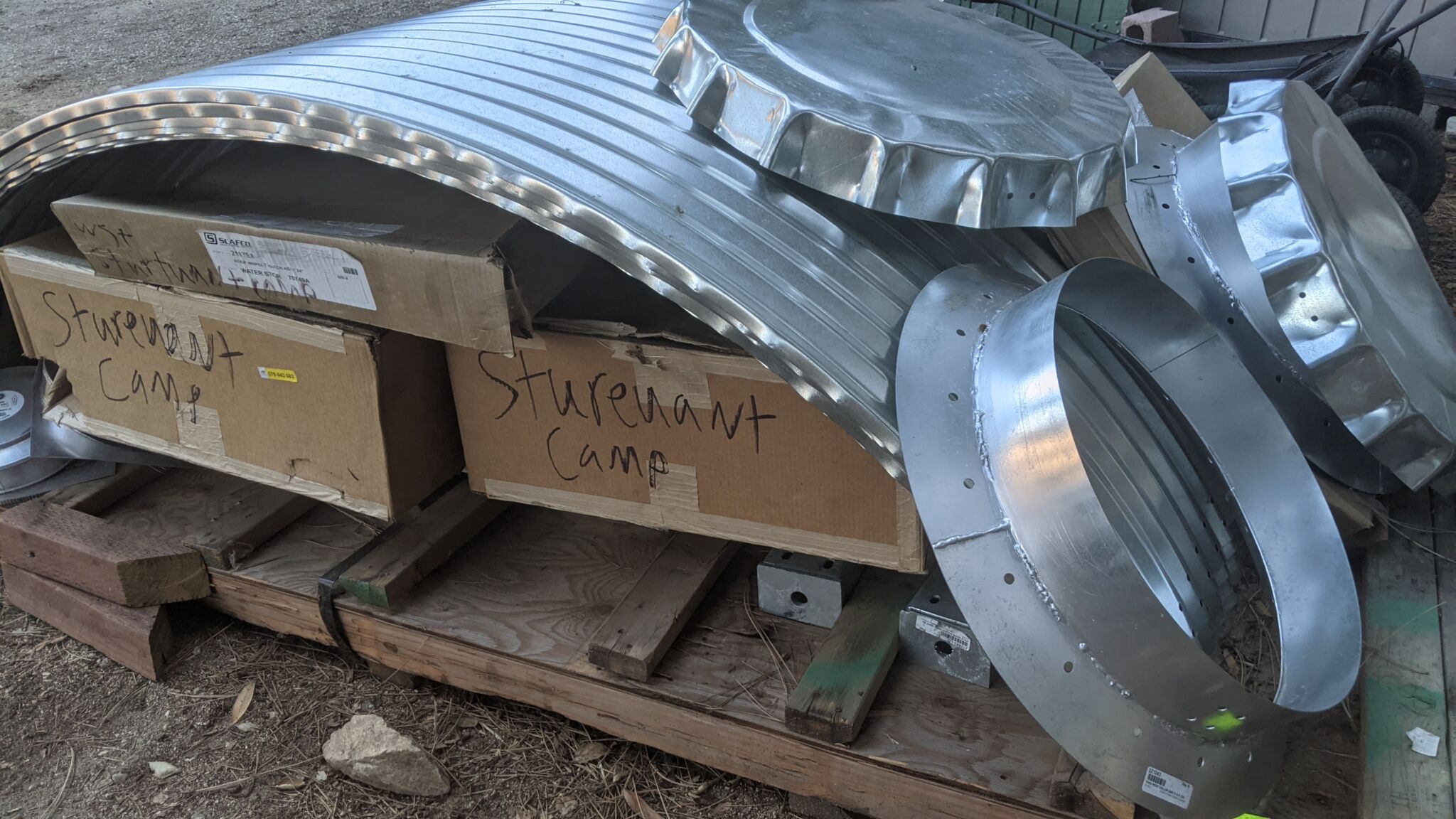 After last-minute snafus, including a truck tire flattened by sharp rocks on the road to Chantry Flat, the new water tanks finally came to rest by the loading dock at Adams' Pack Station. Hurray! Thanks to crew chief Paul Witman, Sarah Barron, and Dave Baumgartner for managing this long awaited day. But there are 4.2 miles still to go.
We Need Volunteers
It takes two people to carry each 72 lb steel panel, using a custom-made truss for handling each one; the goal is to have four persons in rotation, carrying, spotting, and clearing the trail as needed.
Who Is Needed
We need hikers who are good at working together as a team, sure-footed on the trail, with good leg strength, stamina and some upper body strength. Hikers need to be familiar with hydration, nourishment and pacing their effort over time,.
When Help Is Needed
Just like filling a water tank, we're aiming to fill up with enough people to get the job done over a few Saturdays: depending on sign-ups, we could be done quick, or it may take a few (we'd like to be done by Thanksgiving.) Here are the scheduled tote & carry Saturdays:
October 30
Deadline for reply Sunday October 24
November 6
Deadline for reply by Sunday October 31
November 13
Deadline for reply by Sunday November 7
November 20
Deadline for reply by Sunday November 14
If you are interested in being hands-on/boots-on for a delivery, please submit the form below no later than the Sunday before the Saturday you can hike. As soon as we have a full team for a date we will confirm that date with those signed up.
Thank you for stepping in & up to make this happen!
Signup Form
---
Bobcat Anniversary Dinner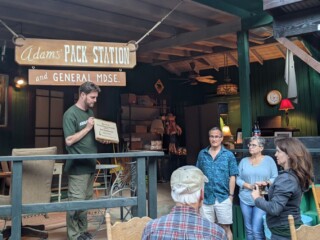 The Big Santa Anita Canyon Permitees Association (cabin owners) gathered for a potluck picnic dinner at Adams' Pack Station on October 10th, 2021. The occasion was to mark the anniversary of mostly surviving the 2020 Bobcat Fire. Originally scheduled for the actual anniversary date on the weekend of September 6th, it was deferred because the Angeles National Forest and Big Santa Anita Canyon had been shut down more tightly. Nearly all U.S. Forest Service personnel have been moved to Northern California to fight persistent wildfires.
Cabin owners shared good food, stories about finding their cabins (or not) after the fire, and swapped tips on how to maybe keep bears from tearing into their cabins. Association president Ben Fitzsimmons was videoed accepting the Outstanding Leadership Award from the National Forest Homeowners, with all present signing off with a hearty "Canyon Strong!"
Binocular Report
Looking ahead, Los Angeles County is now planning to shut down and reconstruct the Chantry Flat road starting early December, with completion expected by June 2022, if weather does not add delays. How this impacts Sturtevant Camp will depend upon several factors, starting with when the U.S. Forest Service decides to open Big Santa Anita Canyon, perhaps regardless of the road's status. Opening the canyon prior to completion of the road would allow people to hike into the canyon from the top — Mount Wilson, Newcomb's Pass, etc.
Stay tuned as we juggle the complexities of access to Sturtevant Camp and preparing for the day we can open again for all to enjoy.
Closed But Busy
Sturtevant Camp remains closed for business, but we're still busy with repair and improvement projects. Funding these projects is entirely dependent on charitable donations of time, talent, and dollars.
You can help with any or all of these by visiting the following link:
sturtevantcamp.com/get-involved